Fluid Checkout Features Lite
Fluid Checkout replaces the WooCommerce checkout page with a better shopping experience, eliminating unnecessary friction at the most critical step of online sales.
Rated 5-star on WordPress.org. Read all 70+ reviews from real users.
Live demos
Make sure to test the checkout flow by adding to the cart and completing the purchase at least two times to see how the plugin streamlines the process for repeat customers.
E S P E C T A C U L A R
Fast, simple and straight to the point!
Great!!
I have tried many plugins, but this one is the best. The checkout page looks great similar to Shopify! The plugin deserves 5 stars.
Optimized checkout experience
If you are looking for optimized checkout flow and experience, make sure to take a look of Fluid Checkout. It's simple and elegant. Looking forward to the release of Pro version.
Highly recommended
Great plugin, super support!
Features
1. Ask for shipping address before billing
When customers get to the checkout page, they are thinking about where to send the goods and not what is the address to put in the invoice.
Offer a natural shopping experience to your customers by requesting each piece of information at the right moment.
If the address is the same for shipping and billing, it will be automatically copied to the billing address.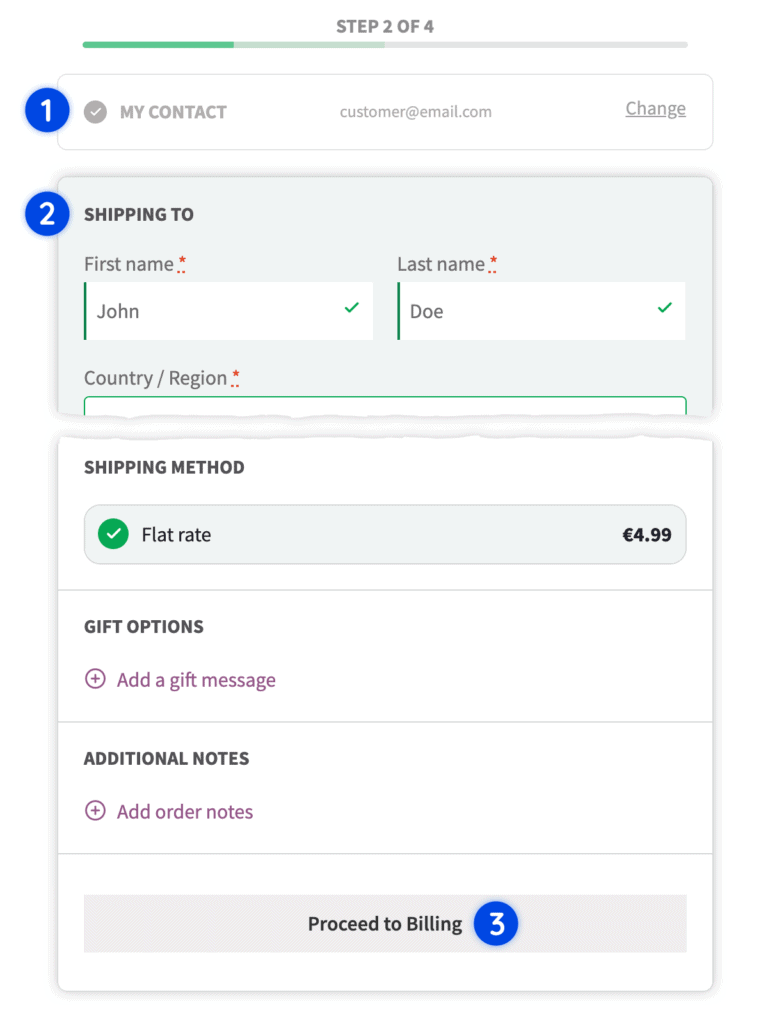 2. Choose between multi-step and one-step checkout layouts
Fluid Checkout is primarily a WooCommerce multi-step checkout.
However, depending on the type of products or services you sell, you can benefit from better conversion rates by choosing a one-step layout (a.k.a one-page checkout, or single-step checkout).
While Fluid Checkout replaces the layout of the WooCommerce checkout page, it still looks and feels like your own website.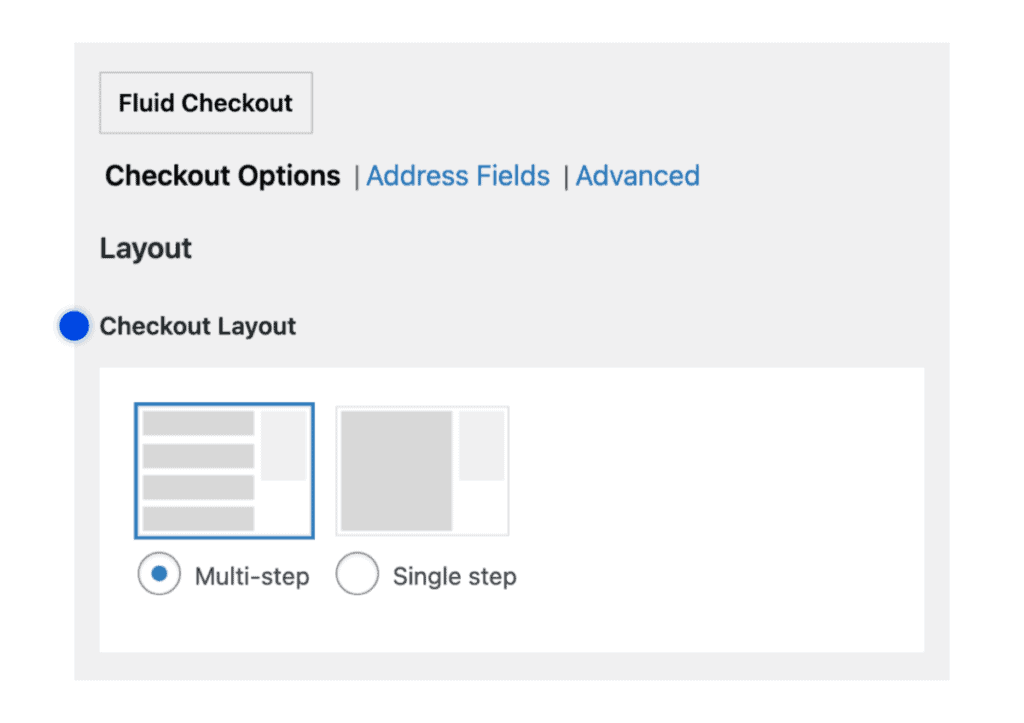 3. Optimized WooCommerce mobile checkout
Don't lose sight of any important information at the checkout, even on small mobile screens.
On mobile devices, Fluid Checkout surfaces the most appropriate on-screen keyboard for each field.
For instance, the numeric keyboard is displayed for phone fields, and for the email field, a keyboard with @ and .com is presented instead.
Moreover, Fluid Checkout was created as a WooCommerce mobile checkout experience and enhanced with more functionality, improved styles, and better layout on bigger screens.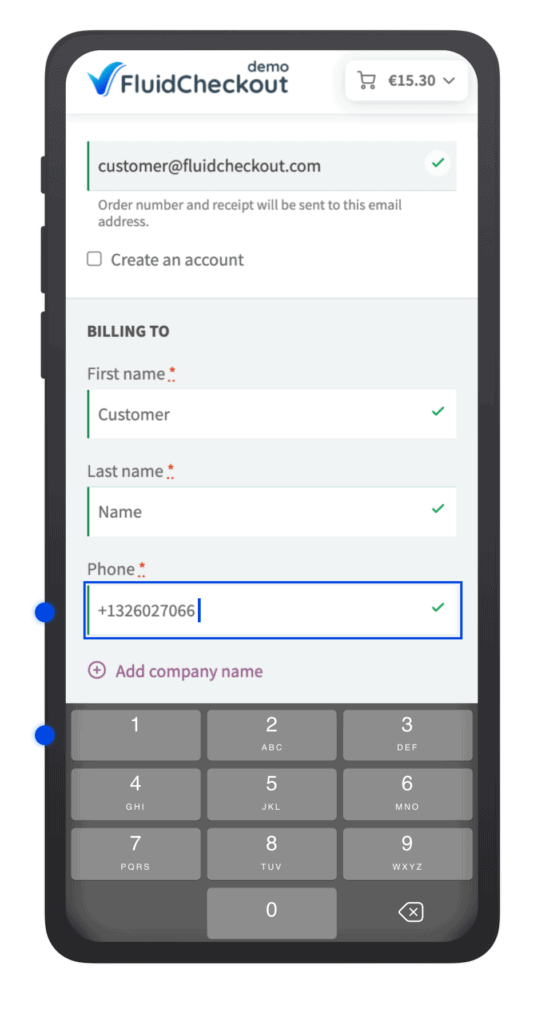 4. Pick-up exactly where you left it
Isn't it annoying when the salesperson forgets your name? Don't be that person.
Your customer's data is automatically saved to their session and they will get back exactly where they left. Being it because of an accidental page refresh or abandoned checkout, you won't forget any of the customer's data.
Although there is one exception: for security reasons, payment information won't be saved.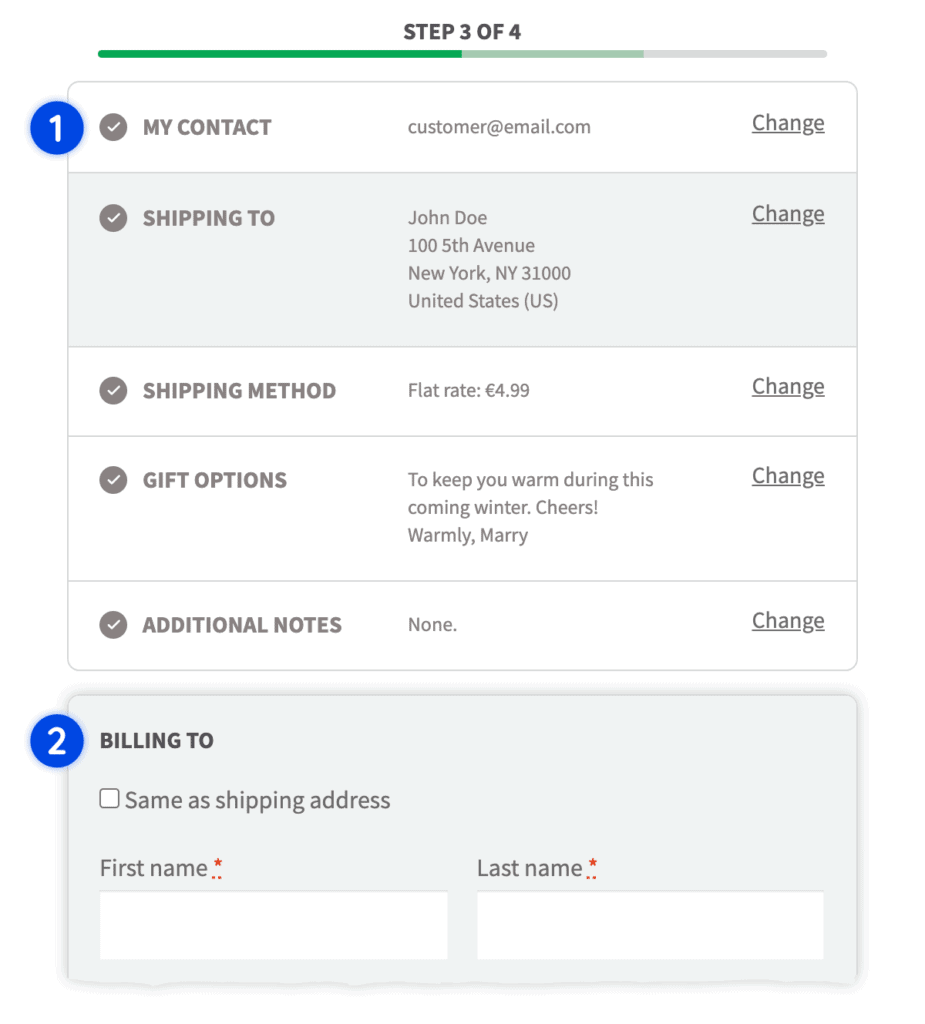 5. Skip completed steps with step review sections
Repeat customers will love how easy it is to complete their next purchase.
Fluid Checkout skips the steps where all required information is already provided and validated, and it provides an easy way to review and change any of the information.
This also works for new customers who abandoned the checkout and, hopefully, came back to complete their purchase.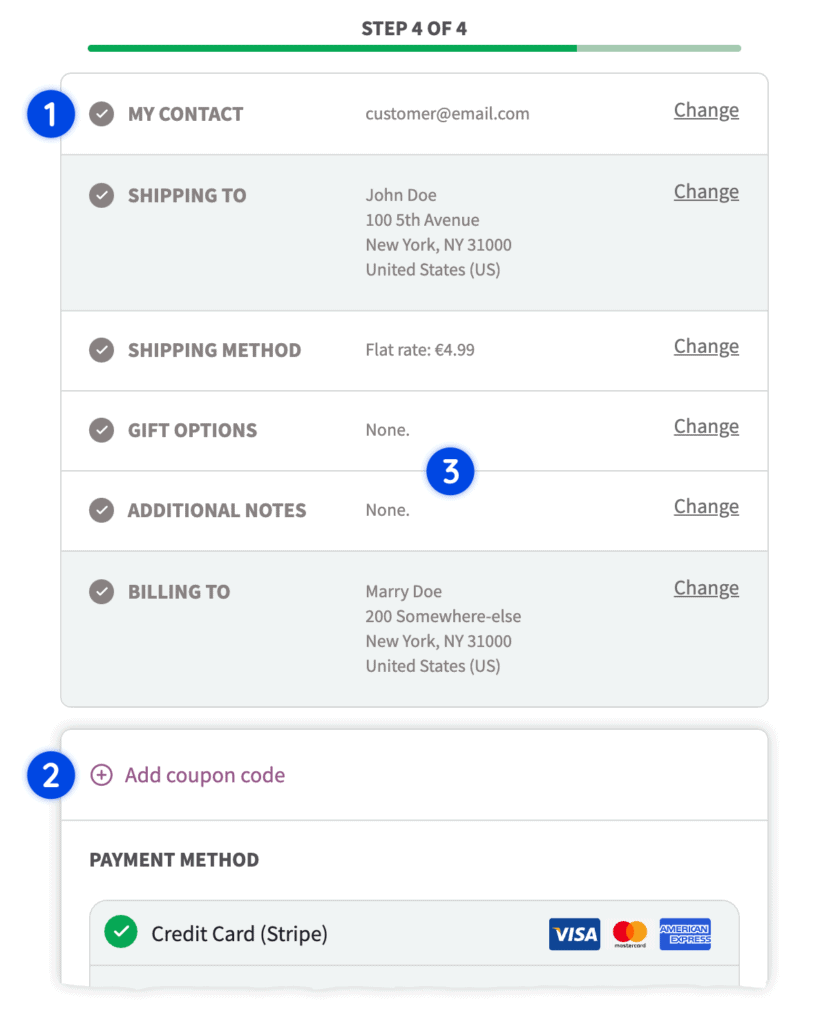 6. Instant field validation and feedback
The default WooCommerce checkout only validates when the form is submitted, leading to confusion and frustration.
When customers click the "Place Order" button, they expect it to be the last thing they interact with to complete their purchase.
While, some fields can only be validated when placing the order, such as credit card and other payment information, most errors at checkout can be prevented by instantly validating the customer's data and giving feedback.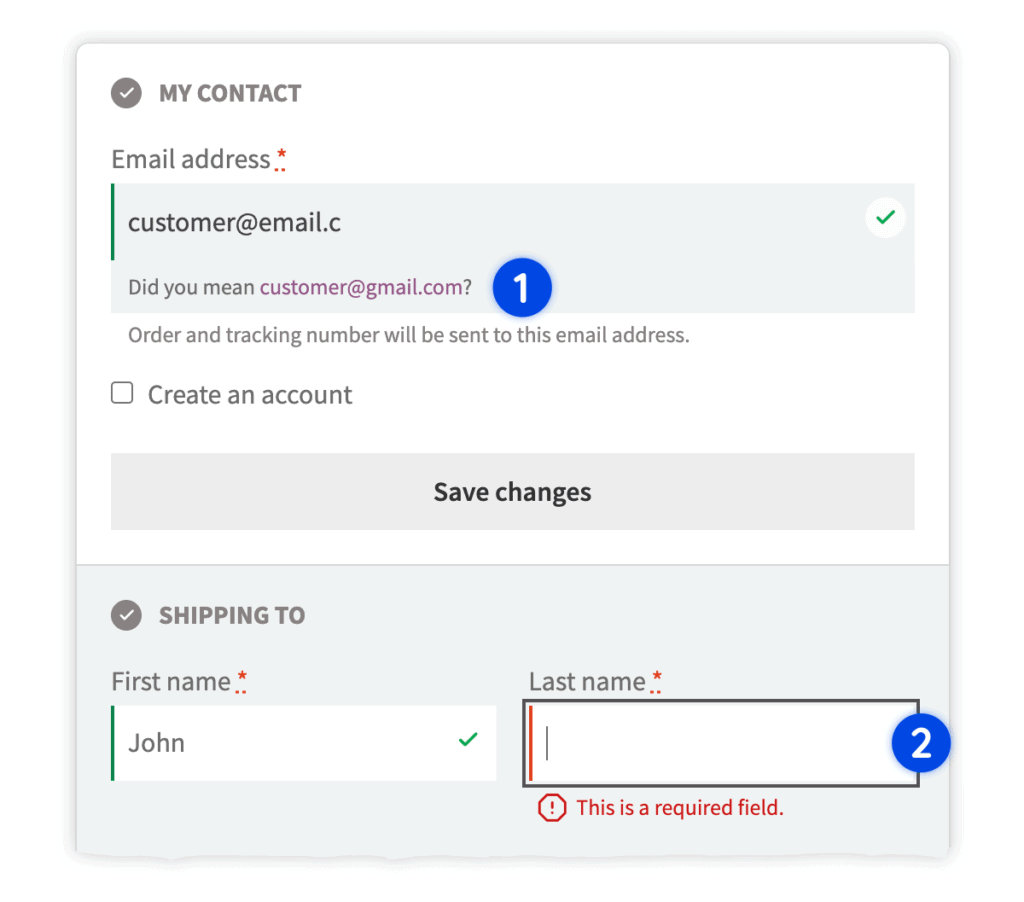 7. Easily add trust symbols to the checkout page
Boost the perceived trust customers have on your website.
Add any trust symbol such as guarantees, accepted payment methods, security badges, reviews, testimonials, or anything really.
Fluid Checkout provides widget areas at strategic positions that can be used to add these trust symbols:
Checkout Header – Desktop: at the checkout header — only displayed on desktop devices and when using the plugin's header and footer templates.
Order Summary: at the bottom of the order summary, below the order details and the place order button when present.
Checkout Sidebar: displayed on the sidebar, below the order summary.
Checkout Header – Mobile (not shown): at the top of the page, right below the checkout header — only displayed on mobile devices and when using the plugin's header and footer templates.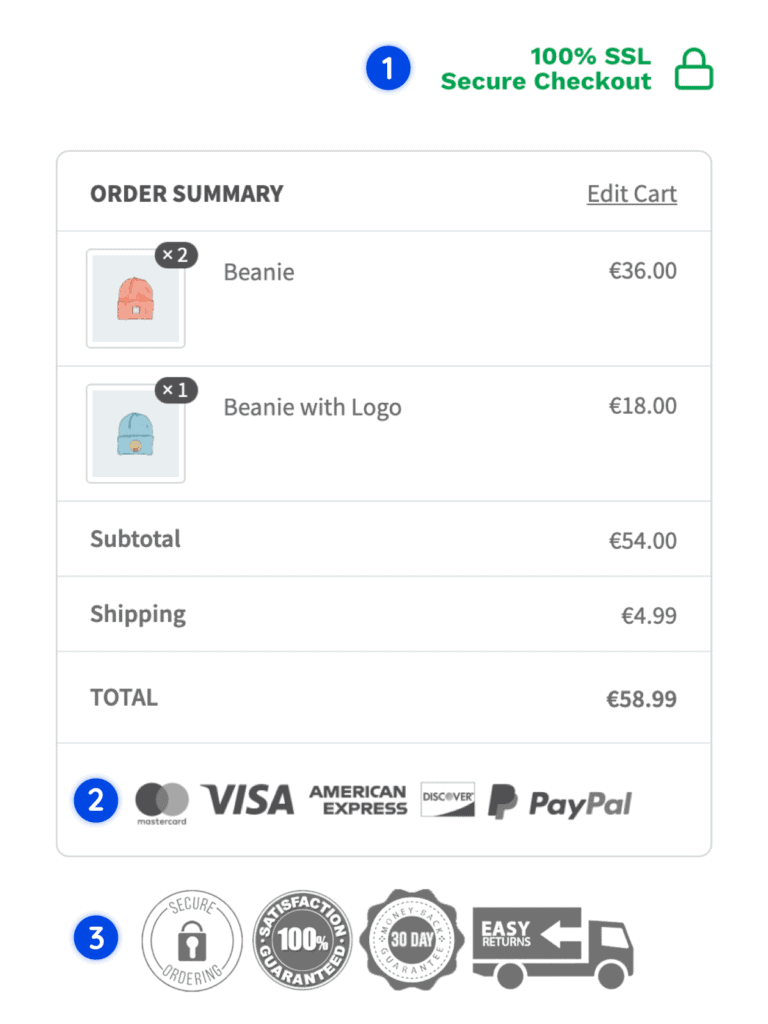 While filling up forms online, the user's attention is disproportionately drawn towards open form fields. The average WooCommerce checkout page has 16 open text fields, many of which are optional.
Examples of these optional fields are the "Company", "Address line 2", "Phone", "Order notes", and "Coupon code".
By removing optional fields from the immediate view we can reduce the number of open fields from 16 to about 9 fields, which is a reduction of roughly 40%.
Those who need these fields can easily find and click the "Add" link buttons to reveal the field.
Help customers complete the checkout form even faster:
Get the Google Address Autocomplete Add-on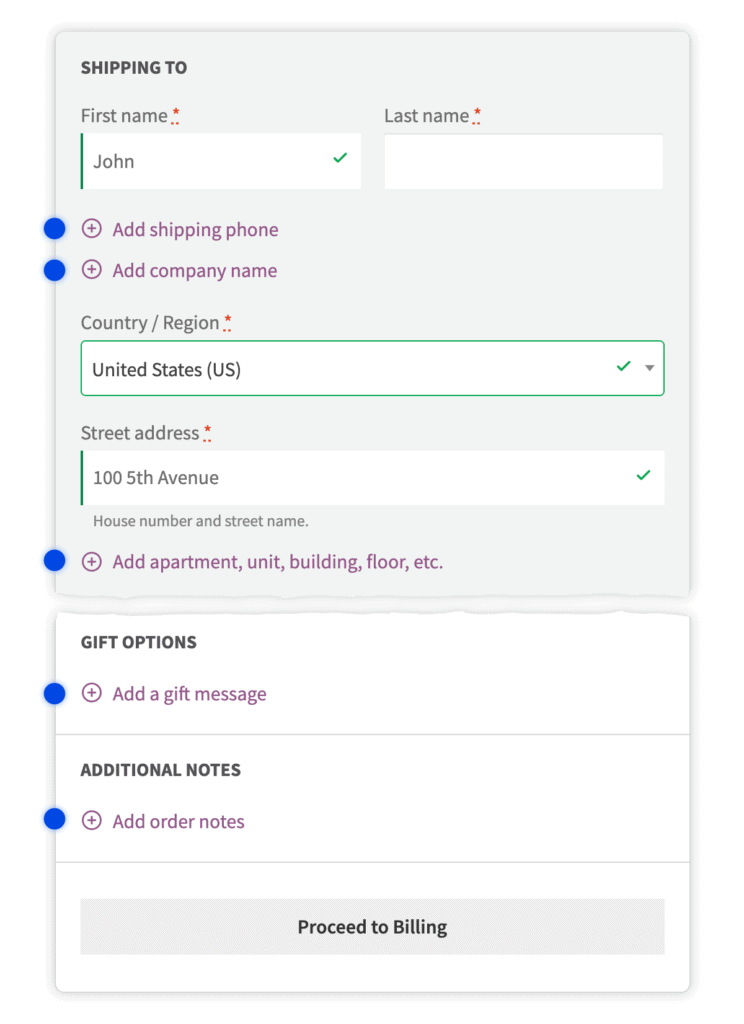 9. Integrated coupon code field at the checkout
Shoppers love discounts!
So much that they will leave your website right before placing an order, and go "coupon hunting" almost every time they see an open coupon code field.
The sad part is, they might never come back to complete their purchase.
Leverage coupon codes in a way that does not distract your customers.
The integrated coupon code field is displayed in an expansible section, just like other optional fields.
While less noticeable it is still easily discoverable for those who already have a coupon code and want to apply it.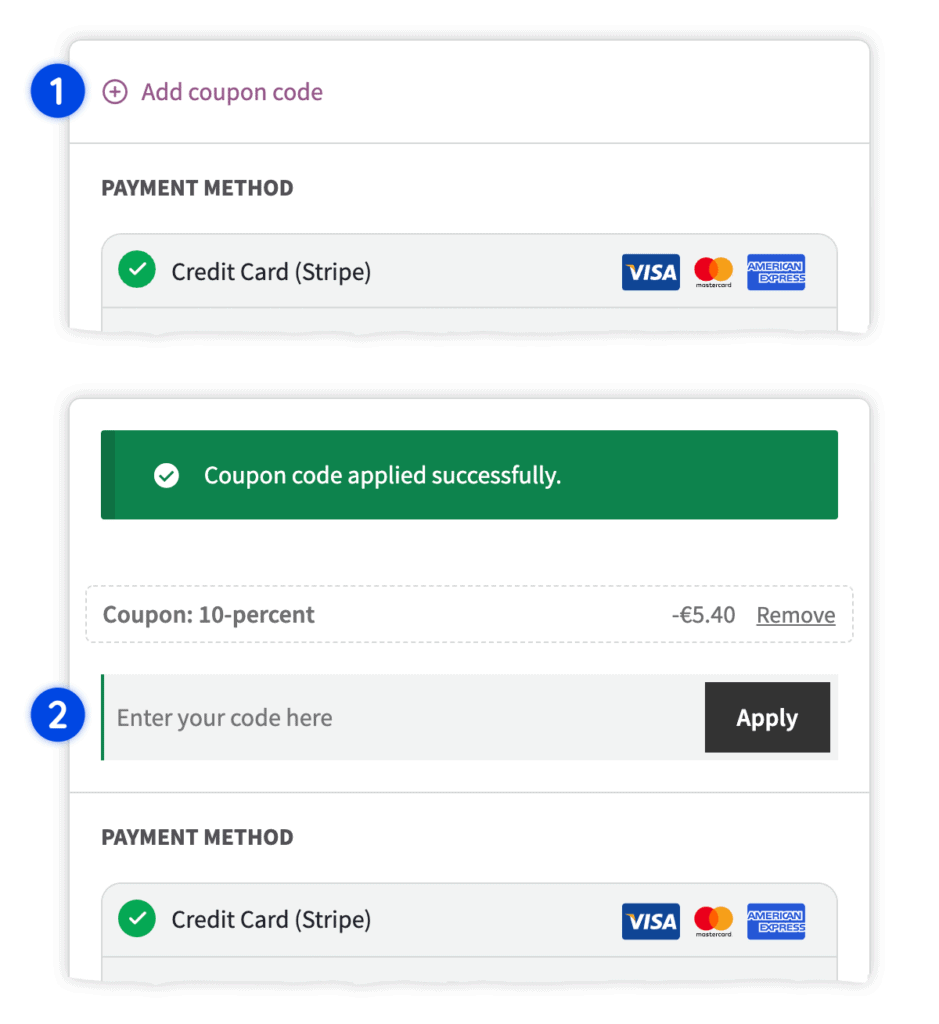 10. Shipping phone field
Add a separate phone field for shipping-related questions, in addition to the built-in billing phone field.
It is compatible with the Shipping Phone support feature added by WooCommerce in v5.6.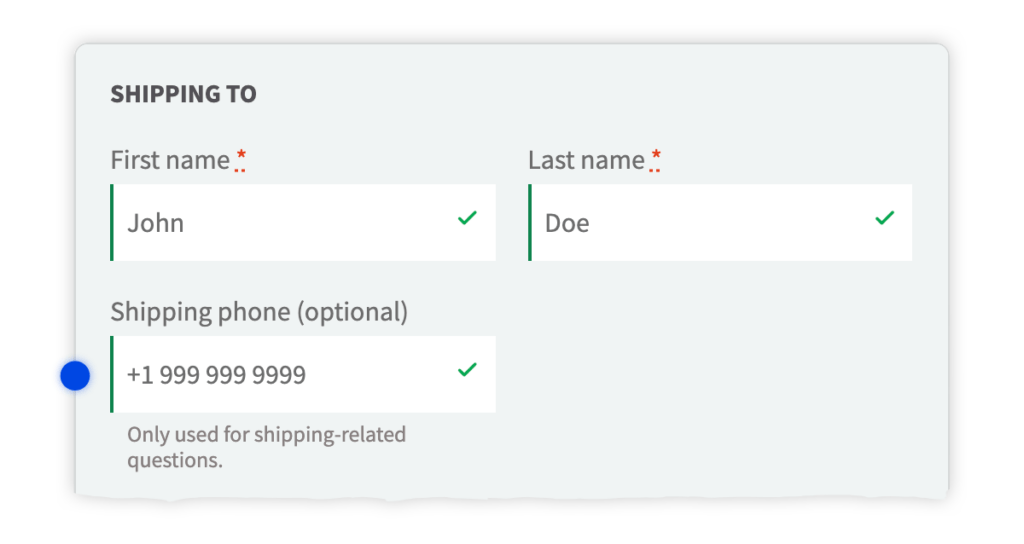 11. Log-in without leaving the checkout
Every time you invite customers to leave the checkout page, they will.
The sad thing is: they might never come back to complete their purchase.
Repeat customers with an account registered can log in directly from the checkout page, without the need to leave the checkout at all.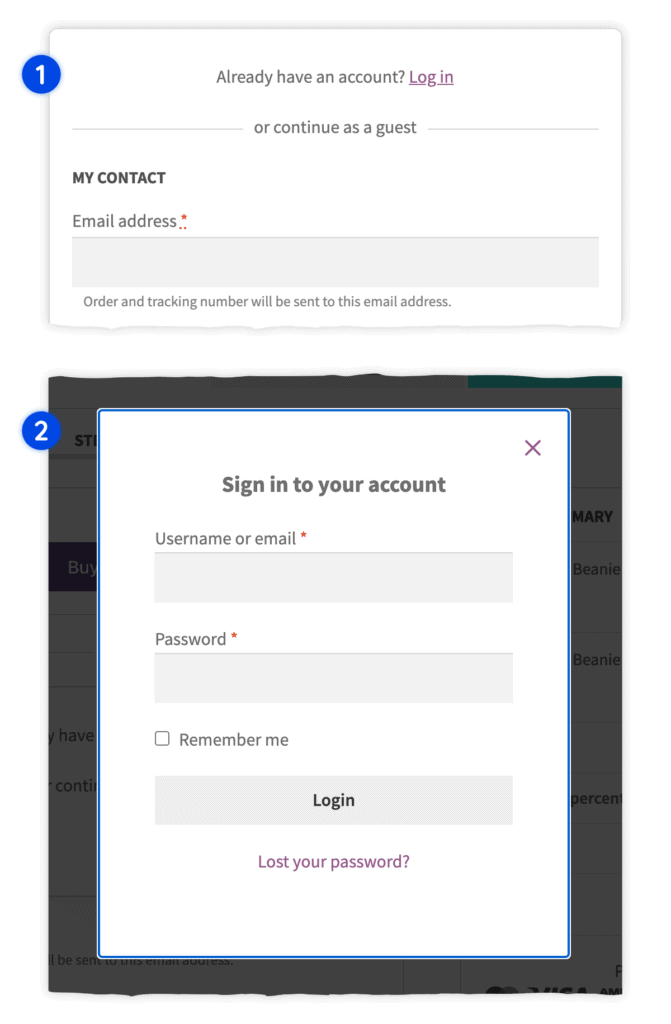 Ready to improve your WooCommerce Checkout experience?
It only takes 5 minutes.