Frictionless Multi-step Checkout for WooCommerce
Fluid Checkout replaces the WooCommerce checkout, cart and order received pages with a consistent and better purchase experience, eliminating unnecessary friction at the most critical step of online sales.
Get better conversion rates today.
Rated 5-star on WordPress.org with 70+ reviews from real users.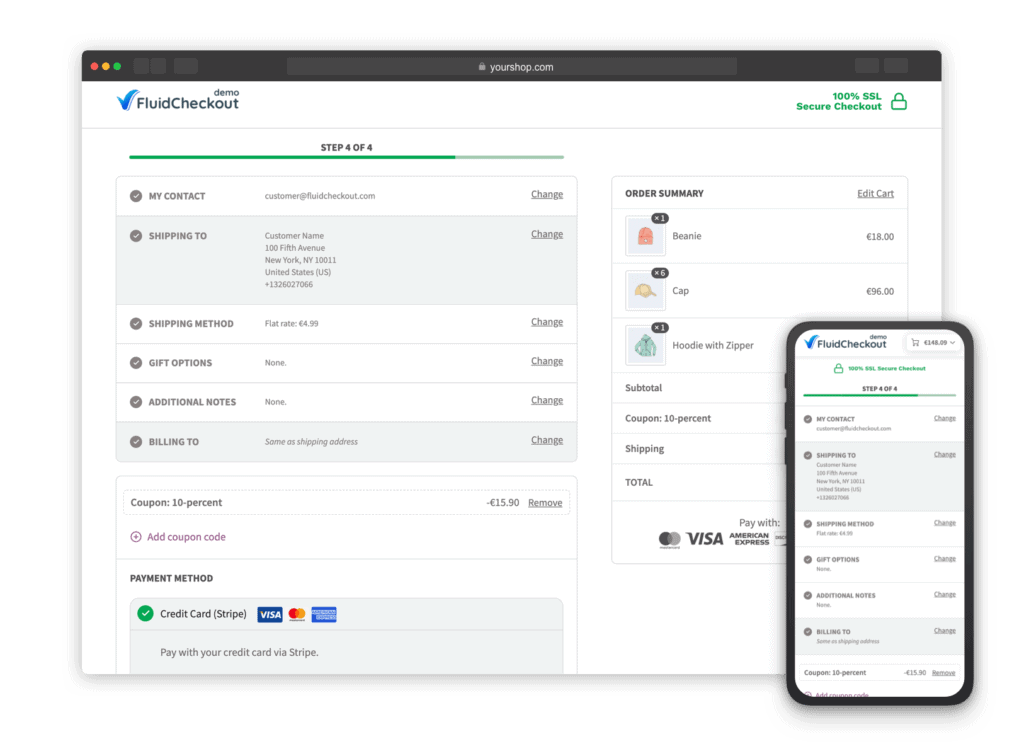 E S P E C T A C U L A R
Fast, simple and straight to the point!
Great!!
I have tried many plugins, but this one is the best. The checkout page looks great similar to Shopify! The plugin deserves 5 stars.
Optimized checkout experience
If you are looking for optimized checkout flow and experience, make sure to take a look of Fluid Checkout. It's simple and elegant. Looking forward to the release of PRO version.
Awesome Plugin
Love the plugin and their support is awesome.
Highly recommended
Great plugin, super support!
🚀 Fluid Checkout PRO is now available
Upgrade the checkout experience on your website with:
Other features that will be added in future releases:
Account matching
Late account registration
Edit cart at checkout
Customize checkout steps and fields
and more… request a feature here
Fluid Checkout Lite
The most feature-rich WooCommerce Checkout Plugin
Benefit from better conversion rates, customer satisfaction, and earned customer loyalty with these features:
Ask for shipping before billing
Choose between multi-step and one-step checkout layouts
Optimized WooCommerce mobile checkout
Automatically saved customer data
Skip completed steps and step review sections
Instant field validation and feedback
Easily add trust symbols to the checkout page
Hidden optional fields
Integrated coupon code field at the checkout
Shipping phone field
Log-in without leaving the checkout