Keep up the excellent work
★★★★★
"Great addition to the Fluid Checkout plugin making it even easier for our customers to finalise their orders." — Brent Godfrey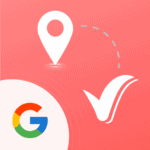 Google Address Autocomplete for WooCommerce
By Fluid Checkout
Nobody likes filling out long forms online. The checkout form is no exception.
Avoid delivery delays and unsatisfied customers. Collect the correct address information from the first time they buy with you.
Give your customers the convenience of searching for their address in a familiar way and save them from typing 5-10 fields in your webshop checkout page. That's around 40% fewer form fields than in a typical WooCommerce checkout page.
Autocompletes the Shipping and Billing addresses
Enable Google Address Autocomplete API to auto-fill shipping and billing addresses at the checkout page.
Integrates seamlessly with the checkout form. Start typing in the "Street address" field to search for address suggestions.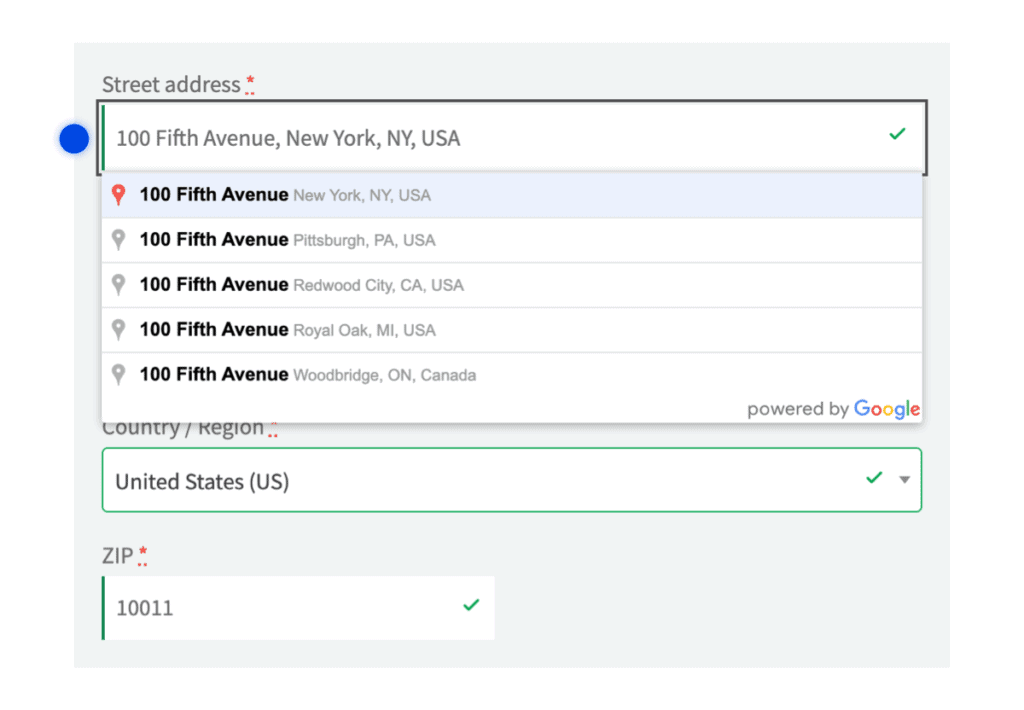 Search for addresses in any country supported by Google Places API
If you are selling globally, let customers search for addresses in any country.
Otherwise, the plugin will automatically filter addresses for only the countries you sell or ship to based on the WooCommerce settings – only up to 5 countries due to Google Places API limitations.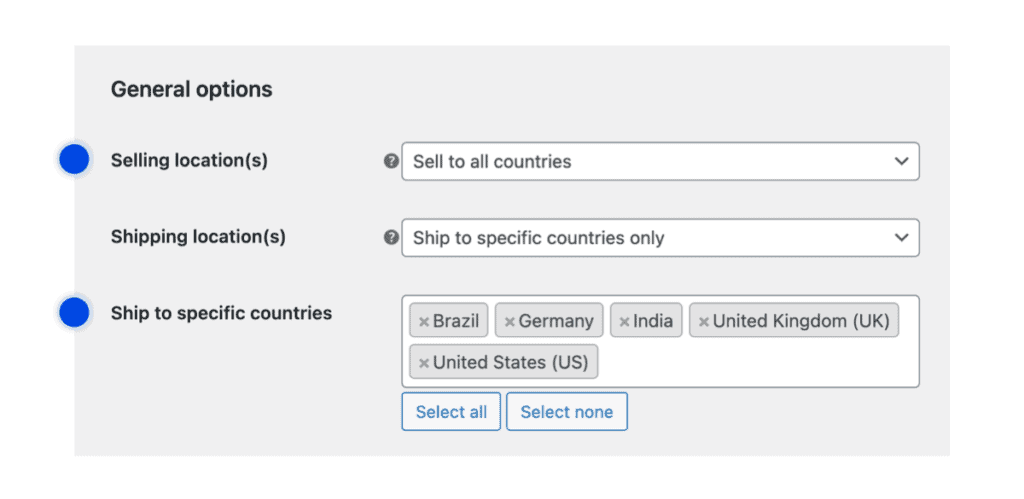 Autocomplete WooCommerce address fields, including custom fields
The plugin will auto-fill all default address fields: Street address, Number, City, State, Zipcode and Country – when a value is provided by the Google Places API.
With a little bit of extra code, custom fields added via code, a checkout field editor plugins or from other plugins can also be auto-filled.
Some plugins will work out-of-the-box if compatibility has already been added.
Skipping autocompletion
Customers can skip the autocompletion from Google, and use auto-fill from addresses saved in their browser of choice, or skip autocompletion entirely and enter the whole address manually.
Even after using the address autocomplete, customers can change any of the address fields to fix any mistakes.
WooCommerce CEP autofill
For Brazilian shops, customers can autofill their addresses by entering the CEP / Zipcode field first.
Live demo for Brazilian Market
Supports plugins that add extra address fields: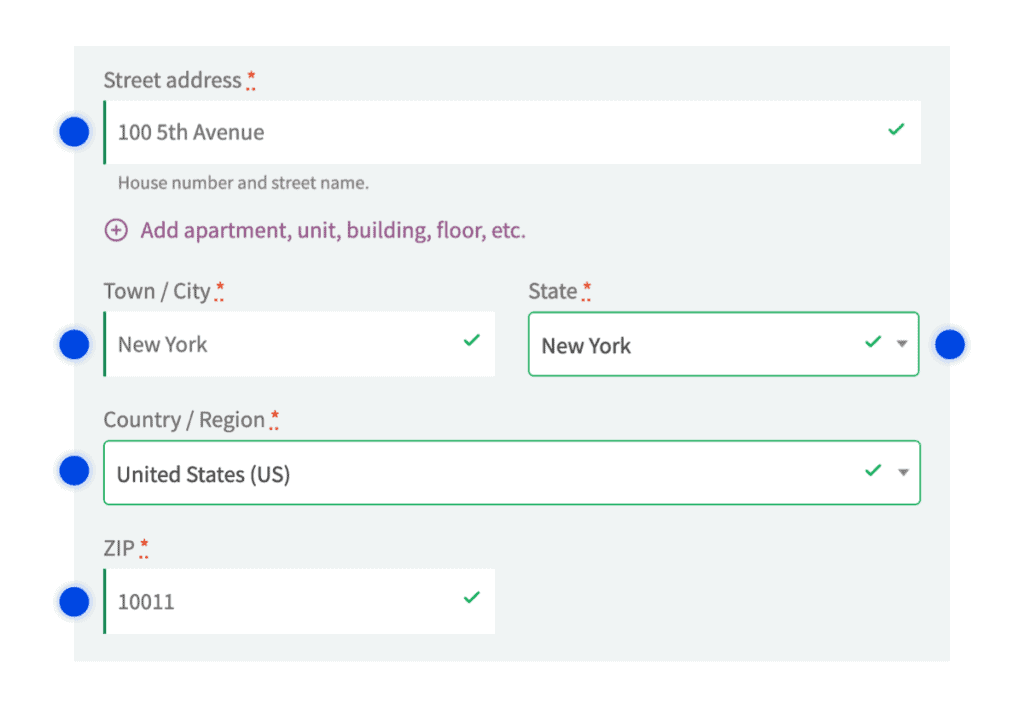 Automatically corrects the address info
The plugin will correct any address with the information provided by the Google Places API.
In some places like Brazil or the Netherlands, the house number is expected at the end of the street address. The plugin will automatically move the number to the correct position based on what is most used or expected in each country.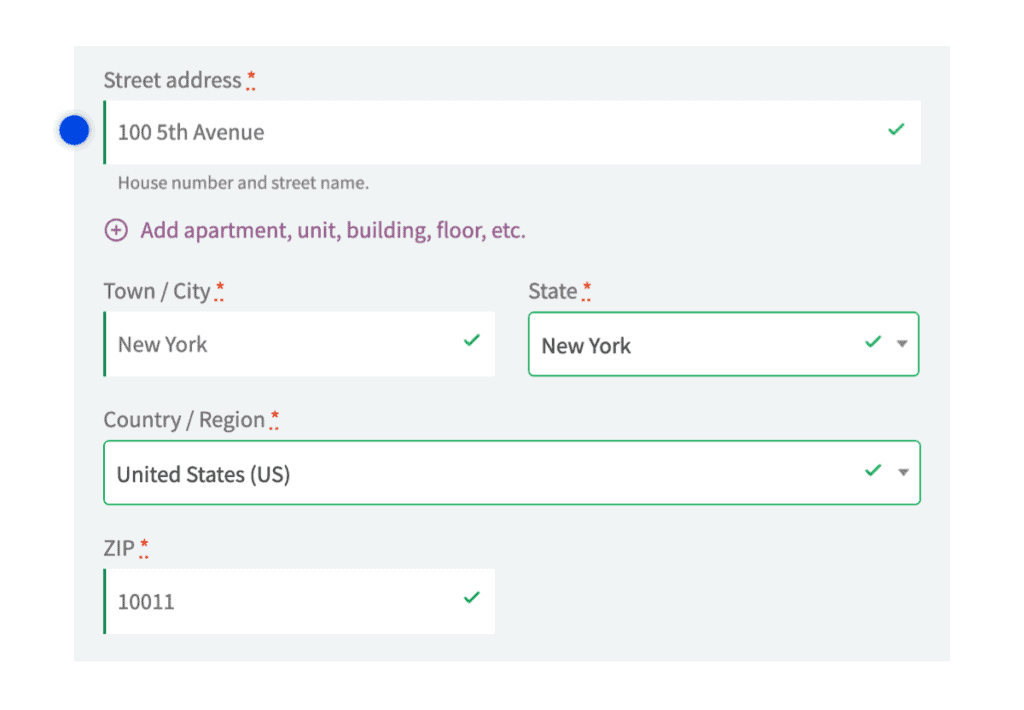 Want more features? Google Address Autocomplete is included with Fluid Checkout PRO.
Looking for multiple addresses autocomplete? Fluid Checkout PRO has the Address Book feature which allows customers to save multiple shipping and billing addresses to their account and use them at checkout.
Reasonable Pricing
Affordable annual plans with 1-year of updates and support. The plans are based on the number of activations, all features are included in every plan.
Individual
€ 29 / year
1-site license for individual shop owners. Use the plugin in your own online shop.
1-site activation
1 year of updates
1 year of support
30 days money-back guarantee
Discount when upgrading to Fluid Checkout PRO
Freelancer
€ 59 / year
10-sites license for freelancers or shop owners who manage multiple shops.
10-sites activations
1 year of updates
1 year of support
30 days money-back guarantee
Discount when upgrading to Fluid Checkout PRO
Agency
€ 129 / year
Unlimited sites license for web agencies that manage multiple shops for their clients.
Unlimited sites activations
1 year of updates
1 year of support
30 days money-back guarantee
Discount when upgrading to Fluid Checkout PRO
Additional information
| Version | Last update | Active installs | Min. PHP version | Requires | Translation ready | GDPR Compliant |
| --- | --- | --- | --- | --- | --- | --- |
| 1.2.0 | 2023-03-13 | 200+ | 7.4 | WP 5.0 | WC 5.0 | Yes | Not relevant |
All Google Address Autocomplete reviews
Frequently asked questions
Licensing and payments.
Can I use my license in a development or staging environment?
Yes.
Usually the development or staging site will not count towards you activation limits.
If you have any issues please contact us and we'll fix it for you.
Can I change the domain associated with my license?
Yes.
Currently the license key is not associated with your domain and will reach its limit based on how many times the plugin was activated. We'll add domain management to the license system soon.
If you need to move the license from one website to another, please contact us.
What happens if I do not renew my license or subscription?
Your subscription will renew automatically every year until you decide to cancel it.
You can cancel your subscription at any time from your account dashboard.
If your subscription is cancelled or in case the payment fails, the plugins will continue to work including the PRO features, but you won't have access to updates and support.
Still have questions?
We are ready to answer any questions you may have about Google Address Autocomplete for WooCommerce 🙂